From Americana to celebrities to the varied and interesting history of local business owners and citizens, the museum has a fascinating collection of artifacts from Stuart's past.
Located in beautiful downtown Stuart, the newly-renovated museum is open daily, 10 a.m. to 3 p.m. Admission is FREE, so come visit us today!
Upcoming Programs and Events

Museum Open Daily from 10 am to 3 pm. Will be closed on July 4th.
The new book "No Fear - Life and Times of Fergie Ferguson" is available at the Museum Gift Shop.
The Author is Robert D'Angelo.
JUST ARRIVED -- exclusive in the Museum is the 2015 Kiwanis Ornament. This is of the Kiwanis Park at Woodlawn, now a barrier-free playground, located along Colorado Ave. The wonderful 3D ornament is $25 each, plus sales tax.
They Have Just Been Found!! Limited Number Available.
EXCITING NEWS -- just discovered, hidden away are several brand new previous Kiwanis ornaments. They are now only available at the Stuart Heritage Museum on Flagler Ave.
CHECK which ones you need.
Here is the list and their year: 1998 - Stuart Feed Store, 2000 - 75th Martin Co. Anniversary, 2002 - County Courthouse, 2004 - Jensen Beach Arch, 2009 - County Fair, 2012 - Palm City Post Office, 2013 - Veterans Memorial Bridge, 2013 - Stuart's 100th Anniversary, 2014 - Save Our Beaches and of course the newest arrival 2015 ornament of the Kiwanis Park at Woodlawn.
Only a few of the book "History of Hobe Sound - A Glimpse into the Past" by Paula MacArthur Cooper are now available at the Museum gift shop. There are many vintage photos in the book of this community at the south end of Martin County.
NOW at the Museum is the book (in paperback) of the History of the Stuart Woman's Club. It is 300 pages of information and photos not just of this club, which started in Stuart in 1913, but of Stuart itself over the decades. The author is Reba Shepard. Get your copy now.
Many new items in the Museum gift shop: Mugs, framed drawing, key rings, jewelry, paperweights, pens, flashlights, etc. Have some of the past annual Kiwanis ornaments available. Arrived is the book on the railroads (FEC) in Florida, titled "Speedway to Sunshine":

Check out the Facebook Page title: Captain Henry Sewall's Home
It was created and updated by Sandra Thurlow.
Wednesday Social

Every Wednesday from 10 a.m. to noon, the public is welcomed to the "Old-Timers Social" held at the museum. Chat with those who grew up in Martin County. Refreshments served. Free.
Movie of Present-Day Stuart
Watch this movie, a great three-minute overview created by Shawn Bettencourt showing scenes of present-day Stuart and surrounding areas.
Historical Vignettes

Step back in time to learn about the unusual, the forgotten and some of the fascinating people, events and places from Martin County's history. These weekly
historical vignettes
are produced by Greg and Alice Luckhardt of Stuart and are in print in the Your News section of Stuart News and
TCPalm.com
every Wednesday.
DVD of Martin County History
Enjoy this DVD with a brief history of Martin County, including photos, videos and narration. It is a great and informative overview of Stuart and its surrounding neighborhoods and locations. Get your copy in a jewel case (playable on your TV DVD player or computer) at the Museum for a $5 donation.
The Purpose of the Stuart Heritage Museum
Stuart Heritage, Inc. was created in 1988 when the City of Stuart purchased the Stuart Feed Store building on Flagler Avenue in downtown Stuart, Florida. The purpose of Stuart Heritage is to help preserve the heritage, artifacts and history of Stuart and its surrounding communities. The countless relics housed by the museum define the history of the people, businesses, agriculture and community spirit of the City of Stuart and Martin County.

Purchase of the Stuart Feed Store
When the city purchased the Stuart Feed Store and property in 1988, Stuart Heritage wanted to convert the building into the Stuart Heritage Museum. However, it was not an easy process. To help with expenses, the front portion of the building was rented by Mrs. Peter's Smoked Fish House for a couple of years.

Gathering Artifacts
During those early years, donations of artifacts were gathered and organized in the remainder of the building. Some of the earliest Stuart memorabilia came from the efforts of Capt. Francis Adams, who had established a Stuart mini-museum in a small building behind the Stuart Police Station on 7th Street from June 1972 until his death in September 1975. With these and other donations from families who had lived in the area for decades, Stuart Heritage's inventory and variety of items steadily increased. Approximately 80 percent of the artifacts were acquired locally.

Preserving History
Local architect Don Armstrong was a founding member and Stuart Heritage's first president. He and other members set the organization's goal to protect Stuart's historical identity. Besides its numerous artifacts on display at the museum, that preservation has included saving numerous early buildings and homes which might otherwise have been torn down.

Historic Preservationists of the Year
Since 2011 there have been four individuals in Martin County who have received awards in recognition for their work on preserving the history of this area. All four are active members of the Museum:
2011: Sandra H. Thurlow • 2012: Joe Crankshaw • 2013: Alice and Greg Luckhardt

Come Visit Us!
The Stuart Heritage Museum is open seven days a week from 10 a.m. to 3 p.m., with always free admission to the public. Volunteers staff the museum to answer questions and explain exhibits and artifacts. Come visit us and discover the rich history of Stuart!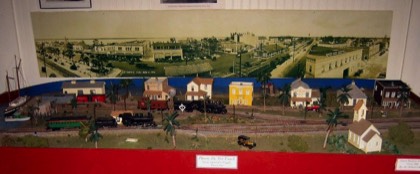 Pictured Top: Panoramic photo of Stuart in the 1920s.
Pictured Above: Miniature display of Stuart in the 1910s.
Pictured Below: Chief Osceola and the dedication of the images by James Hutchinson.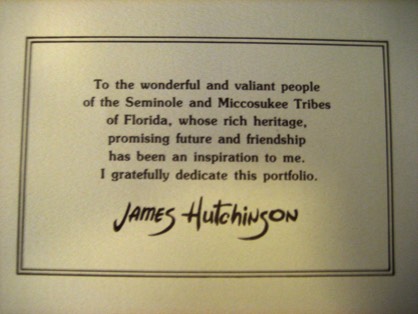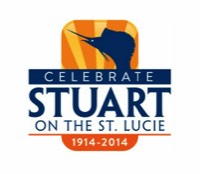 A very rare opportunity is now available to own a limited set of four lithographs
by the famous Florida artist, James Hutchinson.

The four 16" wide by 20" high lithographs of four of the major Seminole Indian chiefs in Florida feature:
Osceola, Billy Bowlegs II, Coacoochee and Halpatter Tustenugee.

The set is in its own portfolio with information on Hutchinson and the chiefs. What makes this even more unique, is that these sets were only just located, having been packed away and forgotten since 1976. They are in mint condition. Mr. Hutchinson has offered them, personally signed by him, only through the Stuart Heritage Museum.

Call (772) 220-4600 or email:
stuartheritage1@yahoo.com
to get further details.