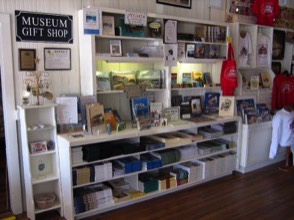 Kiwanis Ornaments
Ornaments by the Stuart Kiwanis Club and are available at Stuart Heritage Museum. Stop by the Museum to purchase a fine ornament—a collector's keepsake. All proceeds benefit Stuart Kiwanis programs for local children and the non-profit Stuart Heritage Museum.
(We sell all the past ornaments as available. Put your name on our call list when they're available, and we'll call you as soon as the new ones come in!)
Celebrate the Centennial with a Limited Edition Print by Kevin Hutchinson

Exclusive to the museum gift shop is a large print of work by local artist Kevin Hutchinson. The piece features Woodmen Hall as it appeared in 1914. Numbered limited edition prints are $25 and are signed by the artist.
DVD of Martin County History

Enjoy this DVD with a brief history of Martin County, including photos, videos and narration. It is a great and informative overview of Stuart and its surrounding neighborhoods and locations. Get your copy in a jewel case (playable on your TV DVD player or computer) at the Museum for a $5 donation.
Books
In addition to several native Florida cookbooks, the museum has these and many other books for sale:
By Sandra Thurlow
• Stuart on the St. Lucie
• Sewall's Point
• Historic Jensen and Eden On Florida's Indian River
• Gilbert's Bar House of Refuge—Home of History
• U.S. Lifesaving Stations
By Ernie Lyons
• The Last Cracker Barrel
By Alice L. Luckhardt
• O. B. Padgett—A Florida Son
(about Padgett and the Ashley Gang)
• Stuart
Postcards
Cat's Meow Collectible

A small wooden keepsake of the Stuart Heritage Museum
Woven Throw Cover

"Stuart, Florida"